In the recent IRS issue (IR-2018-92, April 13, 2018), highlighted the April 17 deadline for filing tax returns and if you're not ready then file for extension, the automatic extension tax pushes your due date to October 15.
IRS YouTube Videos: Extension of Time to File – English | Spanish | ASL
As the April 17 tax filing deadline approaches, the Internal Revenue Service is reminding the nearly 40 million taxpayers who have yet to file their tax returns that there are a variety of options to help them in the final days of the tax filing season.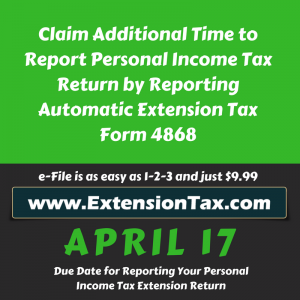 IRS tax help is available 24 hours a day, seven days a week on IRS.gov. Whether filing a tax return, requesting an extension or making a payment, the IRS website can help last-minute filers on just about everything related to filing taxes.
Information about free e-file options, such as FreeFile, how to request an automatic six-month filing extension or fast and easy ways to pay any tax due using IRS Direct Pay are available online at IRS.gov.
The busiest part of tax season begins this week, with millions of people planning to file. Through April 6, the IRS has processed more than 101 million tax returns and issued more than 79.1 million tax refunds totaling $226.6 billion. The average refund to date is $2,864.
Additional filing season numbers: Continue reading →