Extension of Time to File Exempt Organization Returns
Use Form 8868, Application for Extension of Time To File an Exempt Organization Return, to request a 6-month automatic extension of time to file any of the following returns:
Form 990, Return of Organization Exempt from Income Tax
Form 990-BL, Information and Initial Excise Tax Return for Black Lung Benefit Trusts and
Certain Related Persons
Form 990-EZ, Short Form Return of Organization Exempt from Income Tax
Form 990-PF, Return of Private Foundation
Form 990-T, Unrelated Business Income Tax Return
Form 1041-A, U.S. Information Return – Trust Accumulation of Charitable Amounts
Form 4720, Return of Certain Excise Taxes on Charities and Other Persons under Chapter 41
and 42 of the Internal Revenue Code
Form 5227, Split Interest Trust Information Return
Form 6069, Return of Excise Tax on Excess Contributions to Black Lung Benefit Trust under
Section 4953 and Computation of Section 192 Deduction
Form 8870, Information Return for Transfers Associated with Certain Personal Benefit Contracts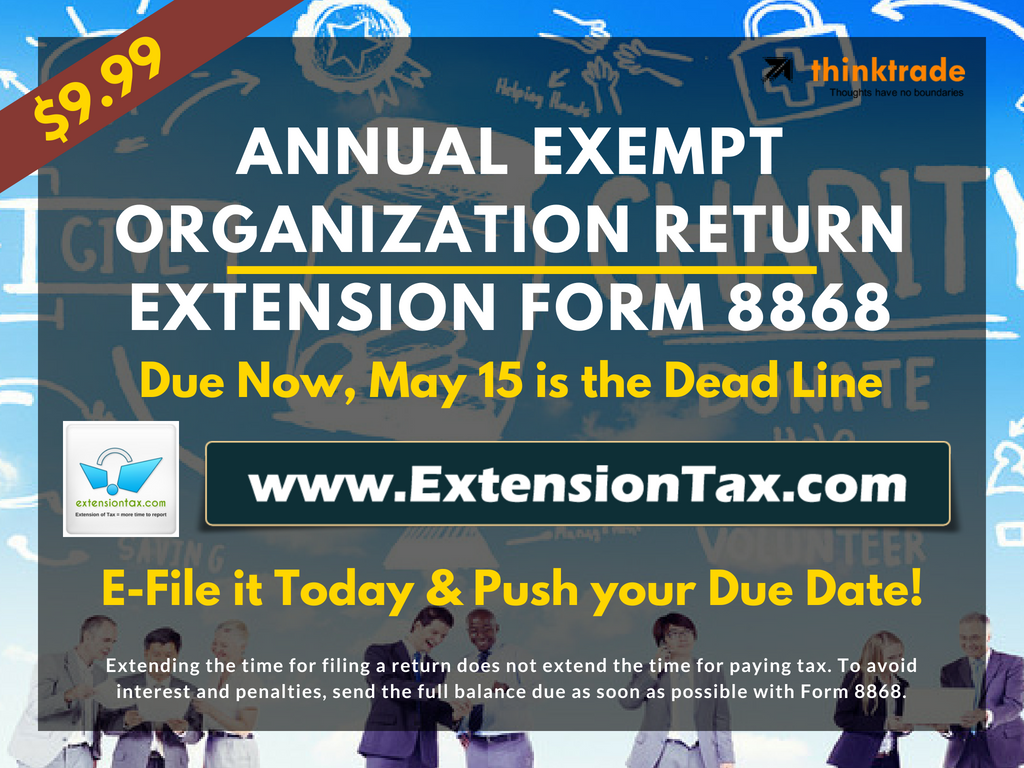 An organization will only be allowed an extension of 6 months for a return for a tax year.
Note that Form 8868 cannot be filed to extend the due date of a Form 990-N.
Extending the time for filing a return does not extend the time for paying tax. To avoid interest and penalties, send the full balance due as soon as possible with Form 8868.
Electronic Filing for Form 8868
Electronic filing is the fastest and easiest way to report your annual exempt organization tax extension Form 8868, at http://ExtensionTax.com, at just $9.99 only. e-File eliminates all possible error and fill your return accurately with all the required fields, never miss anything and fasten the process. Avoid last minute rush, request your extension of time today and push your Due Date from May 15 to November 15 in just minutes.
For any instant help talk to our Help Desk at 866 – 245 – 3918 or write to us at support@extensiontax.com. We're just a phone call away and looking forward to help you through your electronic filing process. Happy Tax filing!.