Plover, WI (March 1, 2017)— Women In Trucking Association (WIT) announces Carol Nixon as its March Member of the Month. Carol is a WIT Image Team member and professional driver for Walmart Private Fleet.
Carol is being recognized for giving a kidney to a total stranger.
Carol and a fellow Walmart driver, Deb Pollard both attended the first annual WIT Accelerate! Conference & Expo in 2015, where Carol learned Deb's husband, Craig, was on dialysis and in need of a kidney. Carol immediately offered to help.
After a series of tests to find out if they were a match, Carol made the decision to donate a kidney, even if Craig couldn't be the recipient. That way, Craig might make it to the top of the list sooner.  However, after three long weeks of waiting, they learned they were a match and could proceed. 
"As we found out about this as fellow associates, I don't think any of us were shocked. She (Carol) is someone that is known to put others ahead of herself," said Rick Aurit, Regional Transportation Manager.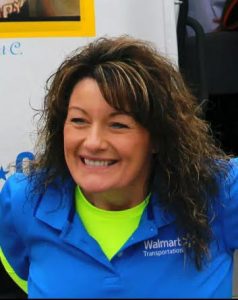 In November 2016, they underwent the surgery with no complications. Both Carol and Craig are doing well. In fact, the first night Craig had Carol's kidney, it pulled 10 liters of fluid off of him without even having to be hooked up to dialysis to get the kidney started, it worked right away.
"Deb and I are extremely grateful and thankful we had the opportunity to go to the first annual WIT convention because that is the week that changed both of our lives," said Carol.
Professional drivers are some of the most compassionate people on the road. We hear numerous stories of Highway Heroes and Highway Angels who go out of their way to help others on a daily basis.  These men and women give of themselves, sometimes even literally.
"What can you say? Thank you is not enough. She saved Craig's life. She saved my husband's life," said Deb Pollard.
If you are interested in being an organ donor, visit: https://organdonor.gov/index.html
****———————————————————————————-****
E-file for an Extension of Time to file your Personal Income Tax Returns Today!
E-filing Tax Extension returns would make it big time for you to get your papers ready to file your personal and business income tax returns. Yes, you would enjoy an automatic extension of time to file your returns and pushes your due date beyond. Start reporting your tax extension online now at http://ExtensionTax.com at just $9.99. Economic and Simple website.
Deadlines to remember:
Form 7004 Business Income Tax Extension is due by March 15th
Form 4868 Individual Income Tax Extension is due by April 17th