Electronic filing is the fastest way to get your returns processed by the IRS. For many owner operators and trucking businesses, 2290 tax reporting is crucial and IRS watermarked Schedule 1 proof is required to register the vehicle with the state authorities and to renew their permits. You don't want to wait the whole day at a taxpayer assistance center to report 2290 taxes? then move on and choose efile for convenient and comfortable filing.
Remember IRS is encouraging every trucker and 2290 tax filer to choose eFile for faster and accurate filing, and also to receive back the IRS watermarked schedule 1 proof in minutes. Those days are long gone. Today 50% of the 2290 tax filers choose electronic filing, where IRS mandates efile for carriers reporting 25 or more trucks in a return.
Pro rated taxes are also due now for heavy motor trucks that is first used in October 2019 for the first time on a public highway since July 2019. November 30 is the due date and start with eFiling at http://Tax2290.com. ordering online in October or earlier, and they keep spending until after those post-holiday sales are over. 
---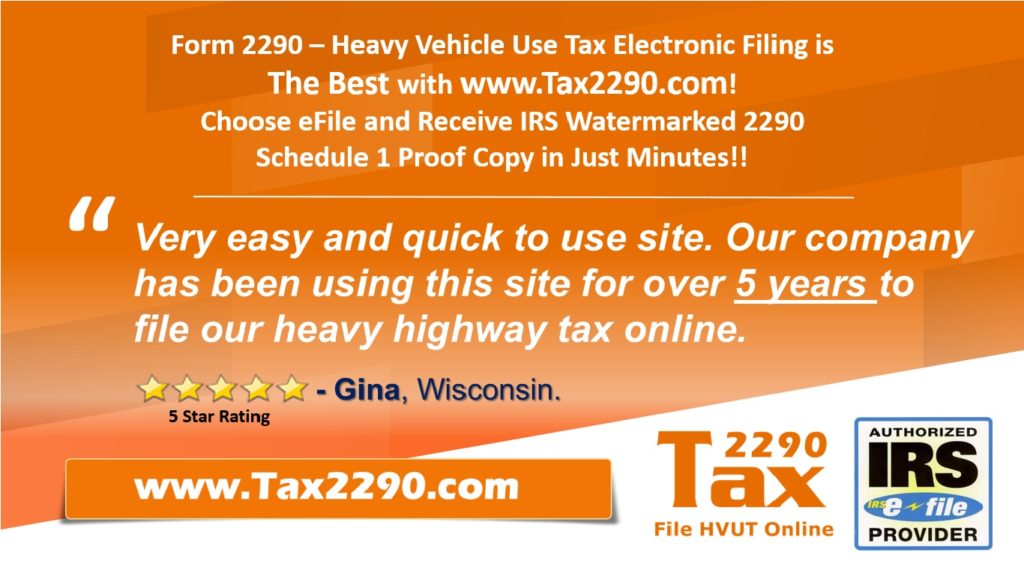 ---
eFile allows you to spend time with your business fortune and we take care of your 2290 filing needs. There are four best practices to get ready and maximize the chance of obtaining IRS watermarked Schedule 1 proof in one go.
Continue reading